Getting help from babblevoice support
You may wish to get help or support with your babblevoice installation for a large number of different reasons, it doesn't necessarily have to be because something is wrong. New babblevoice features are being released on a regular basis and sometimes babblevoice is changed or upgraded to stay on the leading-edge of hosted business applications.
Whatever reason you have for wanting help or support your first port of call is your reseller. That is the organisation that originally introduced you to babblevoice. They probably provided you with your desk phones and maybe upgraded your network. No matter what problem you are facing or what question you wish to ask your reseller wants to know. They care about you and want to make sure that you are getting the most out of babblevoice so please, in the first instance call them. If, for some unknown reason, you are not getting the answers you want from your reseller then please feel free to contact babblevoice directly and we will introduce you to a new reseller who can help you. You can find a list of all of our resellers on the find a reseller page of our website. If you enter your postcode on this page you will be shown a list of the resellers in your area.
For users who have chosen to create a babblevoice domain directly i.e. without the assistance of a reseller, then you can either choose a reseller from the find a reseller webpage or you can contact our support team directly by posting your question or comment on our support forum. The support forum is constantly monitored by the support team which means you will get a timely and accurate response to your query. We use a forum so that answers to previous questions are available for you to search. The chances are good that someone has asked a question like yours before so firstly do a quick search in the forum for the keywords in your question and have a quick skim through the responses for your answer. If you cannot find this topic covered previously then please post the question as a new topic.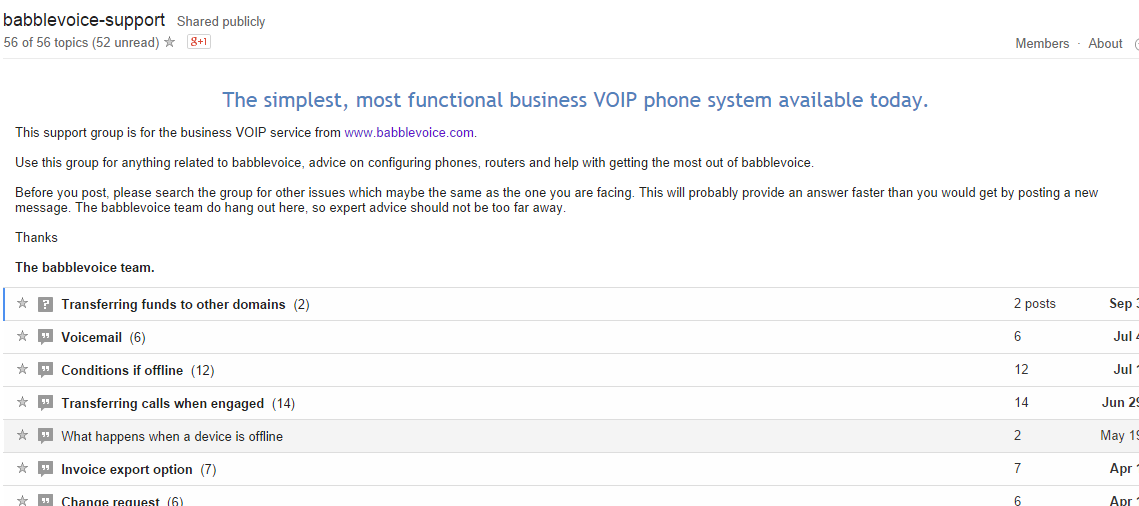 Some users go directly to the website and ask questions via the contact us forms you can find there. Whilst we encourage as much contact with our users as possible you should know that these comments go to the considerable less well informed people of the marketing department. If your question is in any way technical it will get forwarded to the support department. Save yourself time and go straight to the support forum. If your question is in any way commercial in nature then the discreet contact form is your best choice.
The babblevoice team
By Antoine Lever, Sep 15, 2015
#User