Personalise your ringtone
With more and more work being done remotely and yet collaboratively it's becoming increasing important to have at least one great conference phone in your business. The days of crowding around a desk phone, straining your neck to hear and be heard are over thanks to the Polycom SoundStation IP5000 and IP6000. Both of these phones boast Polycom's state-of-the-art HD voice technology in a conference phone format and have been fully tested and approved by babblevoice.
Both phones resist interference from mobile phones and can get their power from a PoE network. The IP5000 has a smaller foot print so it will fit on your desk or a small meeting table and has a 7 foot (2.1m) microphone range. The IP6000 has a greater voice quality and a 12 foot (3.6m) range.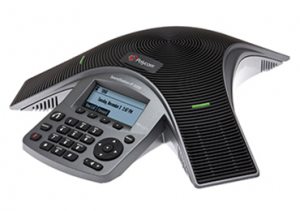 For more information or to buy a conference phone for your business please contact your authorised babblevoice reseller.
If a conference phone isn't for you then you can replicate the effect by using the babblevoice conference call feature. With this approach each call participant can dial-in to the babblevoice conference room and participate in the conference call without any voice quality issues. In addition, call participants do not need to be in the same physical location in order to share the conference phone. To setup a conference call facility either read the blog post on conference calls or contact your babblevoice authorised reseller. Remember that conference call participants do not need to be babblevoice users. They can dial-in externally and be directed to the conference room.
The babblevoice team
By Antoine Lever, Mar 31, 2015
#Administrator