Your babblevoice invoice
Because babblevoice is a prepay phone system the invoicing process works in the same way as your utility bill. On a pay-monthly mobile phone bill, for example, you spend a month incurring call charges and then, at the end of the month, you receive an invoice. In principle, babblevoice works in exactly the same way except that you pay for the invoice in advance. When you pay at the end of the month you are receiving credit which you pay for via line rentals or some other charge. As a low cost provider with no unnecessary charges we cannot afford to extend credit and therefore ask users to maintain a positive balance on their account.
I like to think of it like my Oyster card. I put some money onto my Oyster card and I then travel around London. At any time I can login to the Transport for London website and see my invoice which details my journeys and how much I have spent. What neither my Oyster card nor babblevoice can do is provide an invoice for the initial deposit of funds. Invoices can only be generated to cover a service that has been delivered. Therefore, with babblevoice, as with your Oyster card, you can have a receipt for any funds you have deposited in your account and you can have an Invoice that will cover any costs that you have incurred.
The format of our invoices comply with HMRC rules and allow invoices to retain their formatting when printed. You can therefore easily print your invoice from the babblevoice console. To find your invoice please see this previous blog entry on finding your invoice. To add funds to your domain please see the add funds blog post and to learn more about our direct debit service please see the direct debit blog post.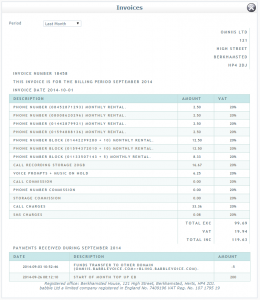 Here is an example invoice. The document is split into two sections. The top section details all the costs incurred and commission received in the specified period. The second section details funds added to your domain. Please note that there is no link between the invoice amount and the amount taken from your bank account by direct debit. The amounts taken will be listed in the second section called Payments Received. You can also find the current balance of your account at the bottom of the document.
The babblevoice team
By Antoine Lever, Oct 13, 2015
#User