Calls to a group
It's time for yet another one of our Top Tips series. This week's entry comes from the head of our support department, the much esteemed, James Palmer. Whenever you have a problem with babblevoice it's someone on James's team that will swing into action and sort it out for you. Most of James's work, however, involves monitoring the health of the babblevoice network and running preventative maintenance measures. Everyday he checks the health of the servers that manage your calls and makes sure that everything is running smoothly. This is in addition to making sure that babblevoice support requests are being resolved and posts to the support forum are being answered. So, as you can see, James is a very busy boy indeed. It's therefore with much gratitude that we received a list of James's top tips for using babblevoice
Top Tip 1: Have at least one smartphone VoIP client
As you probably know, you can use you current smartphone as a babblevoice extension. If you didn't know then checkout this great blog post on using your smartphone with babblevoice. The blog post contains the reasons why it's a good idea to have a smartphone configured for babblevoice but the reasons I think are most important include: you can make calls from anywhere in the world for the same cost as calling from your office and if your Internet connection fails the data available on your smartphone can act as a backup.
Top Tip 2: Configure your phone for two different domains
Some babblevoice supported phones are capable to being configured to manage two different babblevoice domains. If you want to know more about this feature and learn how to do this for your phone then please read this previous blog post on how to configure a multi-line phone. James recommends using this feature if you have more than one domain. For example, on James's phone in his study at home he has configured his work domain and his home domain. This way he can keep the two separate but still have only one phone on his desk.
Top Tip 3: Use the babblevoice support forum
Here's a top tip that is clearly close to James's heart. Your principle point of contact for babblevoice support is your reseller. Your reseller has the advantage of understanding your entire office network as well as babblevoice and so is best placed to provide you with support. However, if you are a reseller or you wish to speak with babblevoice directly then we welcome the opportunity to help you. The first thing you should do is scan the babblevoice wiki pages. The wiki is a collection of webpages with answers to all the most common questions. The chances are high that you will find the answer to your question here. If you can't find the answer you're looking for on the wiki then, for a quick and accurate answer, post your question in the babblevoice support forum. The forum is constantly monitored by a number of people and so this is the way to get a quick and accurate reply.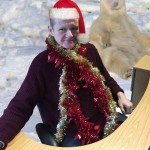 The babblevoice team
By Antoine Lever, Dec 15, 2014
#User