Our new console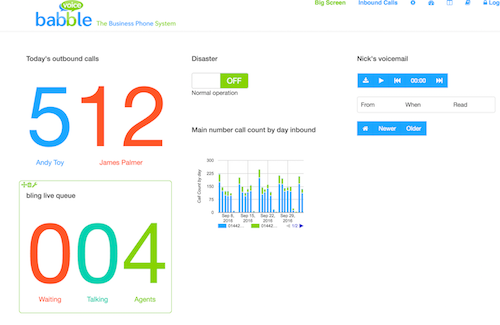 I am going to be talking about this for a while for the foreseeable future. Mainly because of the amount of hard work we have put into it! But also because we hope it makes it easier for you to configure and manage your babblevoice setup.
My last blog post was regarding the new rules editor. I have been using it personally when writing my own call rules - and I think it is much easier to use than the last version. So what else is there?
Well, actually, not much! Most of the software has been laid out in exactly the same way as the previous version. But, we have just made it work a lot smoother. Now we have converted our product to this new type of technology we will be publishing new features - which has stalled a little in favour of getting this upgrade done.
Here are my favourite noteworthy features:
If you manage more than one phone system (domains) then you can see the financial balance right off the front screen of all your domains,
You can colour your call rules in, allowing you to group them together for different functions - for example, your companies auto attendant,
The call quality chart now shows much more data and is shown in a scatter chart. This allows you to get a greater understanding of any possible connection issues which might need addressing,
When you add a new user you don't need to go through an email invite routine. If they are a babblevoice user (and to be this all they need to do is log in at least once), you can simply add them by their full email address,
Locations and Groups have now been moved to Stuff. Stuff is becoming the catch-all "and anything else" area,
Managing voice prompts just got a load easier. You can playback prompts, record new ones, rerecord old ones (in conjunction with the phone on your desk),
Don't forget the shortcuts. If you prefer using the keyboard, '1' takes you to the homes screen, '2' rules, '3' device and so on. The collection of shortcuts is listed in the top right drop down. Press spacebar to show them,
Vibes. We now have our own vibes software. Whilst Netvibes is great, some of our users wanted to stay on our site. So we built our own, migrated our widgets to it and improved them. View live reports about queues, historic usage about any statistic we generate and more,
There is some advanced stuff in there also. On every number, you can allow it to follow your call rule as expected, or you can forward it onto a #tagrule in another domain, or use it to fax to email.
All in all, we have tried to simplify the tasks we know you perform. If you don't think we have then please let us know and we will try even harder!
Enjoy it and as ever please let us have your feedback.
The babblevoice team
By Nick Knight, Oct 4, 2016
#User
#Administrator
#Reseller
#Technical