PayPal comes to babblevoice
As discussed in a previous blog posts called Google and babblevoice, Google like to constantly update the services they offer which very much keeps us on our toes. Luckily for you and us Google chose to give some advanced notice before removing Google Wallet. Today we are pleased to announce that individual payments can now be made with PayPal.
PayPal is the largest online payments provider and certainly the best known provider in the world. We feel that by using a recognised and household name you will have the confidence to make your first babblevoice payment and get your account up and running. For ongoing payments we still recommend setting up a direct debit which will keep your account topped up to your chosen level. Some users had problems verifying their details when using Google Wallet which should no longer be the case with PayPal.
For your first payment and for any additional ad hoc payments please feel free to use PayPal to add funds to your account. The process is really simple. Login to your babblevoice console and click on the Pay Funds button within the Money gadget.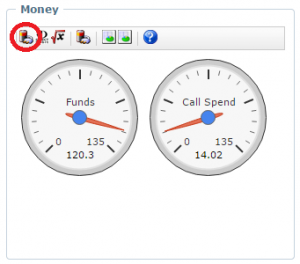 You will then be presented with a slightly different screen from before which informs you that we are now using Pay Pal. Feel free to click in the dismiss button to remove the yellow message pane and then select the amount you wish to add to your domain from the drop down list and click on "check out with Pay Pal".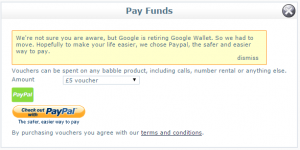 You then have the choice of paying with your existing PayPal account which is obviously very fast and convenient because all of your details are already held by PayPal or you can use a credit card. It's as simple as that.
The babblevoice team
By Antoine Lever, Feb 9, 2015
#User