Login to babblevoice from your website
Allow your users and prospects to login to babblevoice from your website
As a reseller of babblevoice, how great would it be to let your babblevoice users login to babblevoice from your website! By allowing your customers and prospect to login to the babblevoice console from your website you
Provide your users with a truly seamless service. Your providing the support, it makes sense they come to you to login too.
We capture any new domains created via your website and ensure that they are credited to your reseller account.
The process for adding a babblevoice login button to your website couldn't be simpler. Using Google+ as an example
Add an image to your website to represent the Google+ sign in button. The images can be found on their developer's website. Don't forget to follow Google's branding guidelines.
Add a hyperlink tag to your image with some HTML code which can be found in the babblevoice console via the top menu. Select "Manage" and then "Reseller info". You will also find some example HTML code.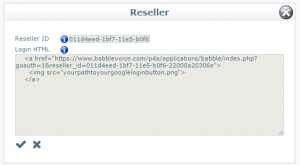 The babblevoice team
By Antoine Lever, Jul 20, 2015
#Reseller
#Technical
#Primary Care
#Administrator