Happy Christmas with some Music on Hold
Happy Christmas from babblevoice
We are all getting close to Christmas and most people I know deserve a good break. I think that is especially true of most people reading this post. As there is one week to go, we thought we would get this update released to help spread a little Christmas spirit.
We now have a selection of default Music On Hold to make it easier to change your music on hold.
We have 8 genres to choose from include "Xmas".
We have done all of the hard work for you to ensure that all copyright licenses allow us to use them for Music on Hold and paid any fees where required.
To change your selection, log into the babblevoice console, click the cog icon for domain settings then choose the genre you would like.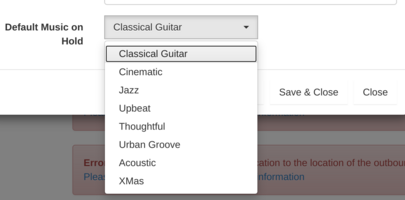 We hope you enjoy them.
Happy Christmas!
The babblevoice team
By Nick Knight, Dec 18, 2020
#Administrator
#User
#Technical