Intro
SPA 5xx
This phone is fully supported by babblevoice. All others on this page are unsupported by us.
Before you start, we only support phones which are running firmware 7.5.2b or later. It is possible to upgrade phones running earlier versions yourself but that is outside the scope of this document.
The Cisco SPA5xx range of phones can be provisioned using the babblevoice provisioning system. Have a look at the video below on how to use it.
We configure the following items for you
Upgrade to relevant firmware
Configure CODECS - and prefer G722 - High Definition
Set the time
Configure multiple accounts if this device is setup for it
Configure the voicemail extension so that you can create a babblevoice rule "when a phone calls itself…"
NB: THe voice quality on this phone is pretty good. But we dropped a mark as it does not support iLBC. There are some users who require lower bandwidth CODECs so we had to drop this mark as this CODEC is missing.
SPA 303
Configuring from fresh
Setting up one of these units is nice and easy. All you need to do is make sure you are in the Advanced View of Admin Mode. Once you are in the advanced view of Admin Mode, the two pages that need your attention are the System page and the EXT # Pages.
Important update
There have been some quality issues on this phone which have come to light. They require some settings to be set to ensure they choose the correct voice settings to work. * NAT mapping enable = yes * SIP port should be some random high value (pick some number between 49152 and 65535) - this just helps some firewalls * RTP parameters * Port range = 10000=>20000 * RTP Packet size = 0.020 * Symmetric RTP = yes
System
On the system pages, you only need to fill in the Domain,Primary DNS, and Secondary DNS. Use Google DNS for the primary and secondary, and the domain is whatever you set it up as. For example mydomain.babblevoice.com.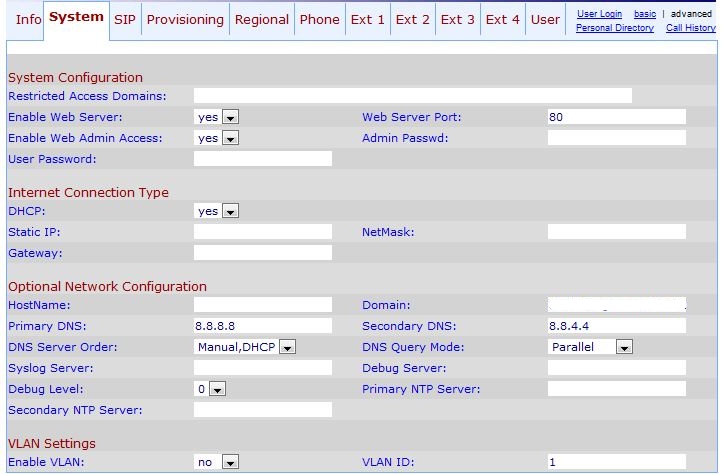 Extension
For a pleasant experience with setting up your phone, I advise you copy the drop down settings like for like, just as they are displayed below. the other important settings are as follows
Proxy: mydomain.babblevoice.com
Outbound Proxy: mydomain.babblevoice.com
Display Name: John Smith
User ID: Your extension number (1000)
Password: Your extensions secret
Auth ID: Your extension number (1000)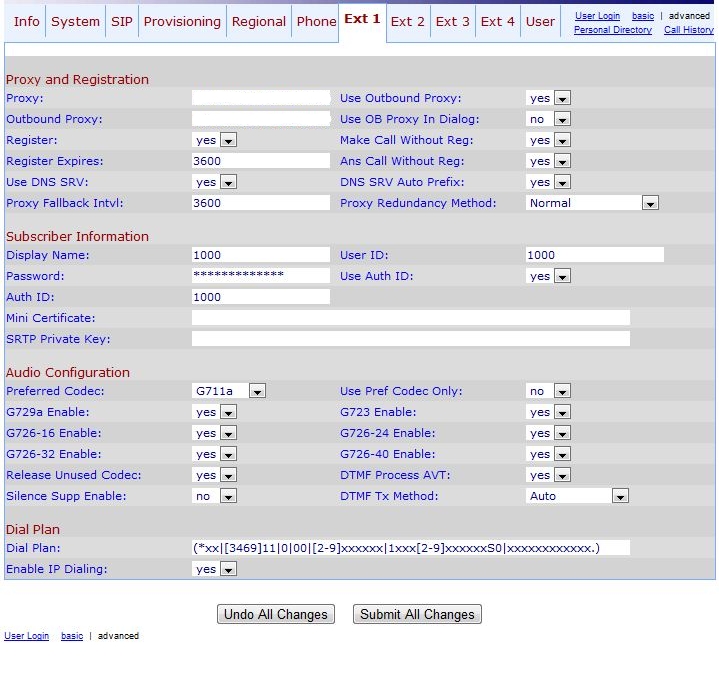 Cisco SPA509
login via the web console after obtaining the IP address which can be found pressing the following on the phone; press the 'page' key arrow down to number 11 (network) and the current IP will be displayed.
In the top right of the web page click admin login and then click advanced.
Then click Ext1 and configure the extension a. In subscriber information, configure the display name, password, auth id, user id and select the auth id to yes. b. In proxy and registration, configure the proxy field as your full domain name, set register to yes and use dns srv to yes, also make sure that DNS SRV Auto Prefix to yes. c. In the preferred codec box, ensure that G711u is selected.
You will need to configure the time/date as well; a. goto system and go to the primary NTP server field and put in europe.pool.ntp.org, click submit changes. b. Then go to regional, and set time zone to GMT, click submit all changes. c. Then to change to dd/mm format instead of the american mm/dd format, this is done on the physical phone by pressing the page symbol, going to preferences and then to date format, press select, press option press ok then press save.
These instructions also work for the Cisco 504G as well.
Cisco 7905G
The Cisco 7905 is a phone that has been superseded by several models since it was discontinued years ago. This doesn't stop it being a good quality phone if you ever found one gathering dust in the back of a cupboard.
A Simple device, it hooks into BabbleVoice very well, and from what little we have used it, is has proven to have all the basic features, and very nice call quality (As we have come to expect of Cisco and its sub-divisions).
Cisco Phone - Once you have plugged in your Cisco phone (Providing the network settings are OK), it will come to rest on this screen.
Opening the Menu - Press the "Globe" key to open the main menu.
The Main Menu - Select settings using the arrow buttons and the "Select" soft key.
The Settings Menu - Using the arrow buttons, scroll down to "SIP Configuration" and press the "Select" soft key.
Enter admin mode - When you enter the "SIP Configuration" menu, press the following buttons in rapid succession: ,,#. Then, if asked (this may not happen depending on firmware) enter the admin password (Default is "1234") and use the "Accept" soft key.
SIP Settings - Enter the settings as you see them in the screen shots (Replacing all of the personal settings with your own. I.E. In place of omniis.babblevoice.com, use mydomain.babblevoice.com). The menu items to configure are 1, 2, 3, 4 (use login ID=Yes), 5, 6, 7, 9 and 11. If you are using more than one of these devices, it is important that the "Local SIP Port" and the "Local RTP Port" is different on each device, start at port 5060 for SIP and port 16384 for RTP.
Upon completion, save and exit and the phone will register ready for use.