Intro
babblevoice Desktop for Google Chrome™
Step 1
To install babblevoice Desktop for Google Chrome™ download the extension from the Chrome Web Store. To find the extension you can either search for "babblevoice" or follow this direct link babblevoice Desktop for Google Chrome™
Step 2
Once the extension has finished installing it will prompt you to connect your extension to your babblevoice account, which is very similar to our Netvibes widgets. You will be presented with a pop-up like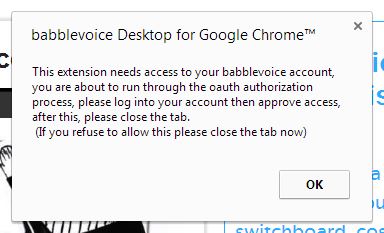 Step 3
After dismissing the pop-up, log into babblevoice using the tab created by the extension, and you will see this

Step 4
Once you reach this stage close the Chrome tab. You will then see a success message and your Chrome Extension will have saved your credentials.
babblevoice Desktop for Microsoft Windows™
Step 1
The first step of installing the babblevoice Desktop for Microsoft Windows™ is to obtain the installation file. Download it here
Step 2
Run the Installer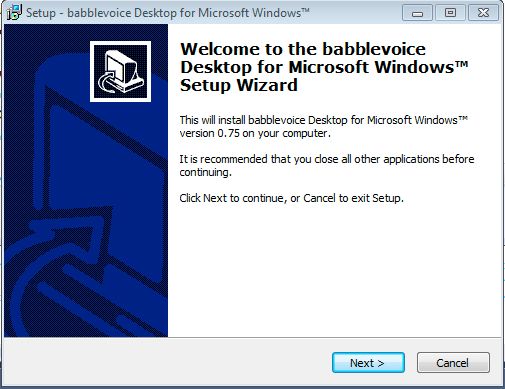 Follow the instructions, until the installation is complete
Step 3
Once the babblevoice Desktop for Microsoft Windows™ has been installed, and ran you will see this screen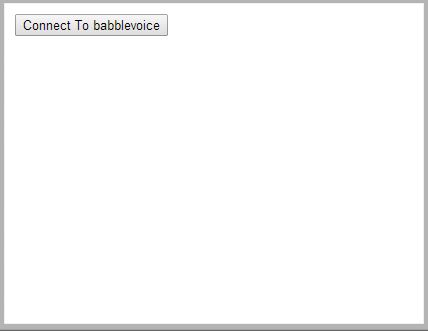 Click Connect To babblevoice
Step 4
Log into your babblevoice account in the pop up window

Then confirm access

Config
Once you have set up your chrome extension in the steps above when you click the babblevoice b in your toolbar you will see the following screen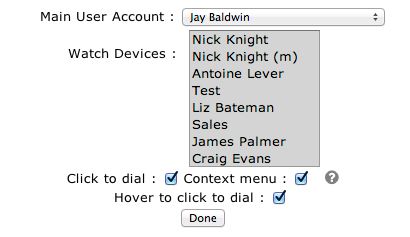 Main User Account
To configure the Main User Account,from Menu select the extension configured for your phone in the babblevoice dashboard.
Watch Devices
From this menu select any phones that you interact with on a regular basis. These will be the devices which you can see, call, transfer to, monitor and intercept calls for.
Click to dial
This option will place a babblevoice b next to phone numbers in web pages, which when clicked will call the phone number from the main user extension in the babblevoice Desktop.
This option will allow you to highlight and call any number you see in a web page. When you right click on the highlighted phone number the option to call the number will appear in the context menu.
Hover to click to dial
This is used in addition to the Click to dial option and will initially hide the babblevoice b until the number is hovered over with the mouse pointer.