Intro
babblevoice Desktop for Google Chrome™
Step 1
To install babblevoice Desktop for Google Chrome™ download the extension from the Chrome Web Store. To find the extension you can either search for "babblevoice" or follow this direct link babblevoice Desktop for Google Chrome™
Step 2
Once the extension has finished installing it will prompt you to connect your extension to your babblevoice account, which is very similar to our Netvibes widgets. You will be presented with a pop-up like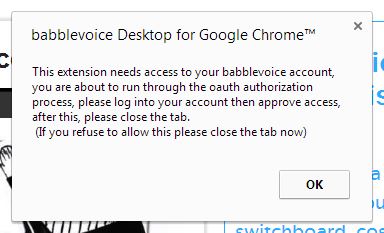 Step 3
After dismissing the pop-up, log into babblevoice using the tab created by the extension, and you will see this

Step 4
Once you reach this stage close the Chrome tab. You will then see a success message and your Chrome Extension will have saved your credentials.
babblevoice Desktop for Microsoft Windows™
Step 1
The first step of installing the babblevoice Desktop for Microsoft Windows™ is to obtain the installation file. Download it here, look for the latest version of bvdesktop.exe.
Step 2
Run the Installer, follow the instructions until the installation is complete.
Step 3
Once the babblevoice Desktop for Microsoft Windows™ has been installed and run you will see this screen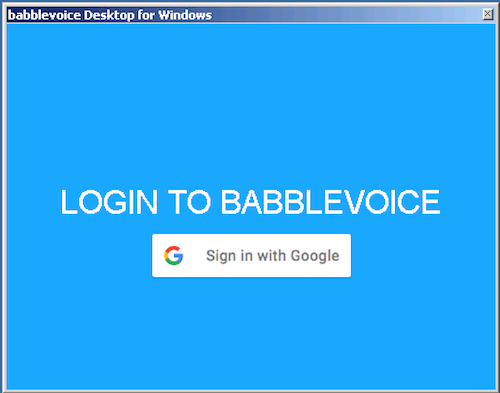 Login by clicking the Google login button and follow the instructions.
Config
Once you have set up your chrome extension in the steps above when you click the babblevoice b in your system tray you will see the following screen
Clicking the COG in the application on the main screen will always take you back to this window.
Domain
The domain you are interested in.
My Phone
The phone you want to make calls from. This will appear in the top of the dashboard.
Other Phones
Your colleagues phones. These will appear below your phone. You will be able to see the status of the phone.
Parking Lot
Switch on or off the parking feature of desktop. The ability to park calls off your phone so that other users can pick up the call.
Queues
View calls stacking up in a call queue your receive calls for. Have the ability to pick out calls from the queue.