A day in the life: Pierre Fouquet, babblevoice helpdesk technical lead
29 March 2023
Today, I'm introducing you to my colleague Pierre Fouquet who is a technical lead in the babblevoice helpdesk team. Pierre joined babblevoice following a tech-focused career that has included working as a data engineer, a gaming journalist and a range of support and helpdesk roles.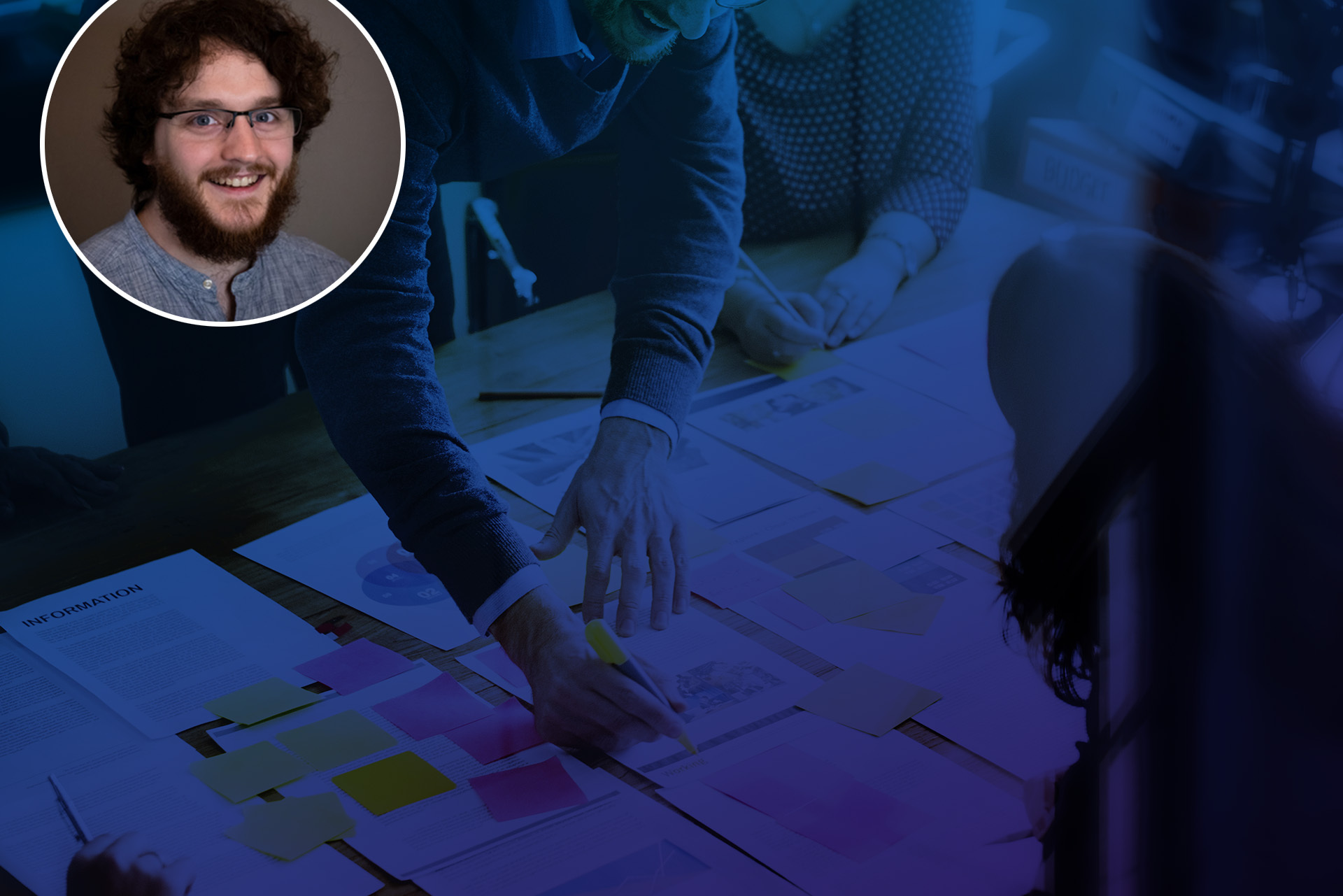 Welcome to our first 'Day in the Life', in which our Head of marketing Emma Grey Williams, interviews a colleague to reflect on their connection with babblevoice.
Pierre, which key steps brought you to babblevoice?
I think I always knew I'd end up working with technology. I loved sci-fi and video games growing up, so it has been great to be able to keep that fascination going in my work.
I had not worked in healthcare before joining babblevoice but it's been a great next step for me to learn about a whole new aspect of technology and new applications. Though I can remember visiting my Dad's offices when he worked as a technical project manager for Bupa, so maybe the seeds of interest were sown then!
What's a typical day for the helpdesk team?
First thing, we do a debrief with the whole team to review what's on the list for today. Have any high priority calls come in? Do we have any training sessions with customers arranged? We discuss the calls and allocate them between us.
I then get on with my case workload for the day, breaking off to pick up any scheduled customer training.
Each day we also spend some time on case review as a team. We talk about how the case went, what was good, what should we do again and how could we have done it better. If we identify any issues that keep recurring, then we look at creating a new compliance process to ensure we change this for the better. In some cases, we talk to the development team about a product upgrade.
We always listen carefully to our customers' thoughts and suggestions for change because they understand more than anyone about what surgeries need from their telephony system and how these needs are changing over time.
We also review our responsiveness to calls. We have a target of answering calls within 30 seconds and responding to emails within 10 mins so we're always checking that we're keeping to that.
It's great to have that mix of working on my own tackling my caseload but also switching to discussions as a group with the team. I really like having that balance.
What's the highlight of your day?
The work's really varied so it depends! I do find it rewarding to step out from the helpdesk for a time to focus on training. We encourage our customers to take advantage of our free-of-charge remote training and our focus is on empowering customers to be in control of their own babblevoice system. We want to give them autonomy and agency of their telephony so they can flex the system around their particular surgery.
For example, last week I spent a couple of hours with a practice manager who had just joined a new surgery. It was about familiarising them with the system and bringing them up to speed.
However, this week I spoke to a GP partner who was a seasoned user but had some specific questions about access to data and reporting. I helped them identify what they wanted to achieve and between us we set up a report that tracked call volumes across the week. We then spotted that there was a spike at 2pm on Mondays, and a lull at 11am on Tuesdays and their staffing availability didn't match this.
We discussed creating new babblevoice 'rules' to help with this, such as setting up timed automated diverts to voicemail, and switching to a satellite location when the queue breaches a set limit. Vibes, our reporting suite is so valuable for providing the facts.
What excites you most about your work?
I have to admit I do love a complex challenge that takes a bit of work – I am a bit of a turbo-nerd! I find I get a lot of satisfaction from getting to the bottom of something that's taken some effort to get there. Babblevoice is such a flexible system that we're able to continuously work to improve it for customers. It's really quite liberating for a techie like me the way the system is built to allow freedom to change. When I spot an opportunity to make a positive change, I like that I can make it happen.
For example, just recently I was trying to help a customer who was unfortunately dealing with a repeated nuisance caller ringing the practice. I realised that we could write a custom piece of code to isolate and retrieve the call data from a single number over a defined timeframe. Once this was done, we were able to give the practice manager the evidence they needed to help them resolve the issue.
In addition, I find that our customers are simply really nice to work with. They appreciate we're trying to help them, and we often have a laugh along the way. I like that I've been able to build relationships with people in our surgeries. I often get asked for by name to help with something which is really rewarding. It's also helpful because then I already know a bit about them and their surgery which helps me work quicker and more efficiently.
Have you learnt anything new since working at babblevoice?
Yes, loads! As well as lots of new technical knowledge, I've learnt about the NHS and the current challenges facing primary care in particular.
Also, babblevoice are great at supporting us with our development. I'm currently working on my CompTIA Network+ certification which is about understanding networks and I am able to set aside some time each week to this.
What are you most looking forward to this year?
We're all very excited about the next iteration of babblevoice which we've been working on for a while and includes some significant next generation enhancements. It's another example of how babblevoice is never standing still. We're always making small, iterative improvements, but at the same time, we have this significant change coming soon too. Can't wait!
We're always on the lookout for new, experienced helpdesk team members, so if this sounds like you and you're interested in joining us, please get in touch: info@babblevoice.com.
The perfect prescription?
If your practice staff is presenting with high phone costs, functionality that doesn't add value, and unhelpful onerous contracts, then get in touch. We can talk through your requirements and arrange a demonstration.
Book a demo