Users
This document covers the section titled Users on your domain. The document is aimed at domain owners and those users that have the appropriate permissions set.

This section shows you a list of people/email addresses that have access to your domain. It allows you to add and remove users, and also change their permissions.
How to add a New User...
To be able to log into babblevoice, the new user will need a gmail account which can be set up here. This account can be linked to an existing email address or a new one can be set up.

Once this has been setup, the new user needs to log into babblevoice using it, and click on the Sign in with Google button.

When they log in, they will see confirmation of their account ID (the email address they have used to log in). They do not create a new domain, they need to log out again until they have been added to the domain. babblevoice needs to recognise the email address in order for you to be able to add the new user.
At this point you will need to add them to your domain - this can be done by the owner of the domain or someone in your organisation who has this permission set (see permissions below for more info).
To add the new user:
Log into your domain on babblevoice.
Click on Users in the blue menu.
Click on Add.
Type in the email address of the user you wish to add. This must be the email address that they have already used to log in and out of babblevoice.
Click Add User.
When the new user next logs into babblevoice they will have access to the domain. You will then need to give them appropriate permissions to access different parts of babblevoice, if this is required, which we go through below.
Permissions The other important part that can be accessed in the Users section is Permissions. Choose the user that you want to view by clicking on them and highlighting their details in green. Then go back up the screen and click on the Edit button in the blue menu bar.
This will then open another box on your screen with a variety of different options which we will go through below:
Details Hopefully this is fairly self-explanatory - the email address is linked to this user along with the first name and surname to help identify them.
Permissions This is where you set how much access you want users of a domain to have access to. We find it is best to have an "owner" user with full permissions and less for user(s) that are just using desktop on each PC. Permissions can only be changed by those that have been granted permission from the domain owner and have User set to ON.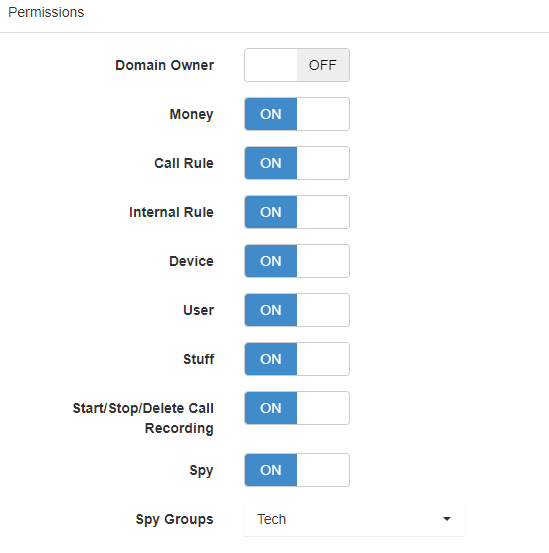 We will go through each of these options in more detail.
Domain Owner: This is normally the person in your organisation with overall responsibility for babblevoice and all things to do with it! In the example above, this user in not the domain owner, hence it is set to off.
Money: By setting the permission to ON this will allow the User to add funds to your domain and also gives access to domain setting and Export CDR, invoices etc. More details on the money section can be accessed here.
Call Rule: If set to Yes, this will allow the User to view and edit any external call rules on the domain. These are rules that start: "when an incoming call..." or "when any bv user dials #0000..."
When it is set to No, they will not be able to view or modify external rules but can still create/change internal rules. Further information regarding call rules can be viewed on our Rules page.
Internal Rule: This enables a User to modify, add or delete the call rules on your domain, by setting it to On. Whilst the button is in the Off position, the user will only be able to view the rules.
Device: This will allow a user access to add, change and delete everything under the devices section on your domain (i.e. phones).
User: By allowing a user permission here, it will enable them to add or remove users from your domain as well as editing permissions.
Stuff: Setting the permission to Yes, will give the user access to modify anything in the Stuff section.
Start/Stop/Delete Call Recording: This gives permission to allow a user to stop or start the call recordings and also to delete a call recording on the domain. Further details regarding call recordings can be accessed here.
Spy: If this is set to Yes it will enable the User to 'Spy' (to listen in) on those calls that are part of the Group(s) indicated in the drop down box below. Setting spy to Yes will also enable the User to listen to Call Recordings through Vibes. Further details on the Spy Function can be found here.
If you change any of the permissions then make sure you click 'Save & Close' at the bottom of the screen before exiting!
If you have any further queries regarding any of the above then please contact us.