Install babblevoice Desktop
babblevoice Desktop for Microsoft Windows™
Please click the 'Download babblevoice Desktop for Windows here' link above.
Click on bv_desktop from the Index of files (if there is more than one option available, please choose the most recent).
Click on the downloaded file in the bottom left hand corner of Google Chrome.
Your PC may stop you from installing, as it is an unknown file. Click more info and proceed.
Please use all the default settings for program location, and start menu options.
Tick run babblevoice Desktop at startup and add icon to the Windows desktop as needed for you.
Click install.
You will then be met with the Desktop login screen.
Once you have installed Desktop, it will need configuring. Please follow this link for details on how to do this.
If you need any help with installing Desktop then please contact us.
babblevoice Desktop for Web
The Web version is designed to run in any web browser so that it works on all platforms such Microsoft Windows™, Mac, Linux, Chrome OS and so on.
Go to https://www.babblevoice.com and in the top right hand corner, hover over the Sign in button to bring up the drop down menu. Click on babblevoice Desktop and Desktop will open in your current tab.
Alternatively, from https://www.babblevoice.com, click Sign in with Google to access your babblevoice domain. Click on Desktop which can be found in the blue menu bar and the Desktop will then open in a new tab.
Either way, you will need to configure your Desktop. Instructions on how to do this can be found here.
Chrome Extension
This simply provides a helping hand.
To install babblevoice Desktop for Google Chrome™ download the extension from the Chrome Web Store at https://chrome.google.com/webstore/search/babblevoice.
On the top right of your screen, next to the end of the google search bar, you should be able to see the babblevoice icon:

This feature requires that you are logged into babblevoice and have configured your Desktop. Details of how to configure your Desktop can be found here.
So, what does the Chrome Extension do?
It provides quick links to three babblevoice applications (the Console, Vibes and Desktop) by clicking on it.
It shows dial lists for phone numbers on a page.
You can right click context menu for dialling a number from a web page.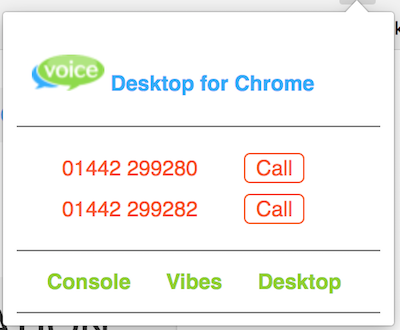 On a generic web page it will look for a UK style phone number
It then supports:

Google Contacts - old and new
Nutshell CRM
If you have an application which doesn't work as is, please contact us, letting us know what web application you use and we will see if we can help.