Intro
Version 2 is the current version. We received lots of feedback from our users which has been incorporated into the new design.
Version 2 adds
A redesign of the interface
More consistent interface for plug-ins to use
Support for queues
Support for call parking
Support for fully attended transfers
For the Microsoft Windows™ Version, always on top, dial clipboard copied phone numbers and window resizing
babblevoice Desktop Overview
The main sections of babblevoice Desktop. At the top there is a main control bar with menu items which drop down from the search bar. Shortcuts to configure, phone book, online help and logout appear in the tool bar also. Phones which are switched off appear as grey, phones which are on an active call are green idle phones are blue. When you put a call on hold, the held call will appear red.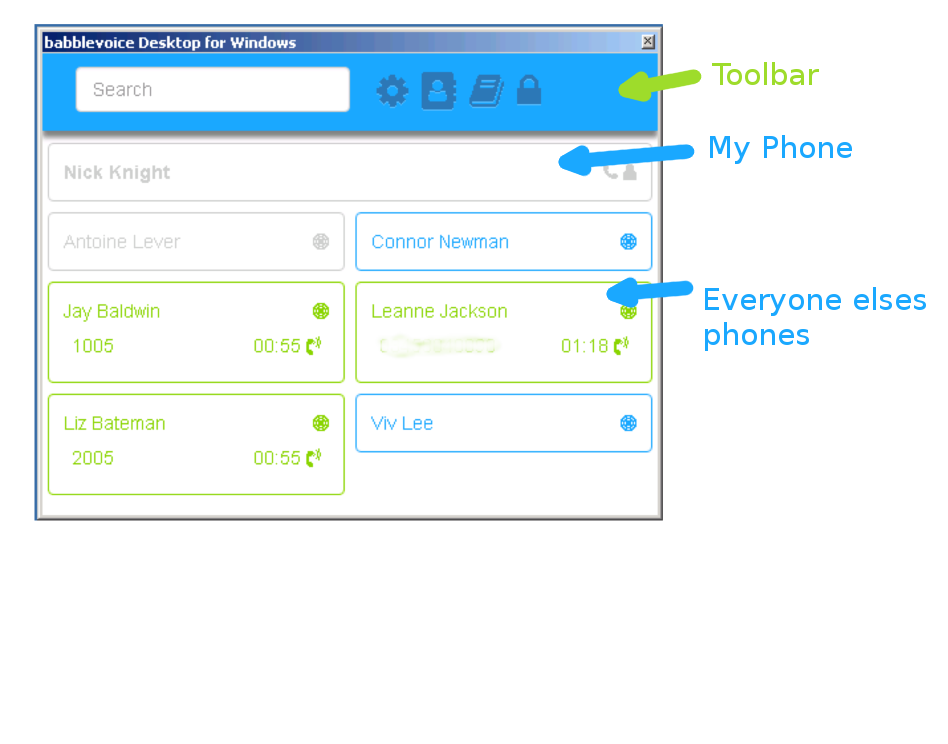 The search bar is the main control for most things. It can be used to search for a command/action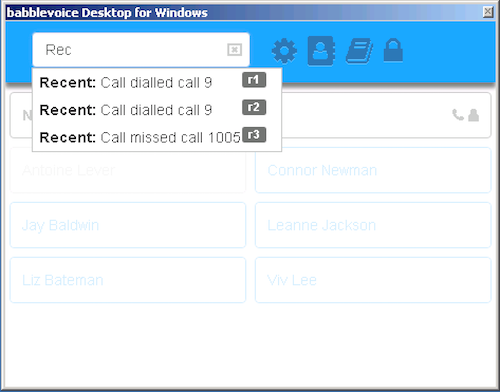 It can be used to search for another phone/extension (just type the extension number or name without hitting enter)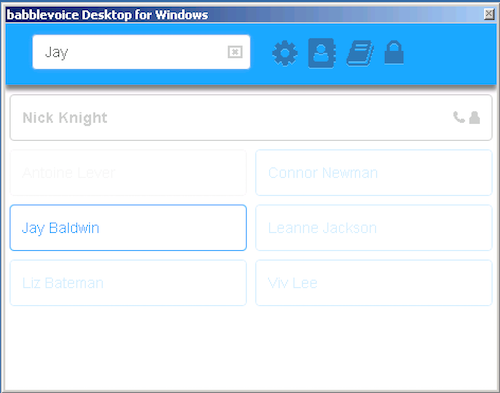 Type the search and hit enter and it will search through your contacts as well. If you have any plug-ins installed, depending on the plug-in, it will search through the contacts in the plug-in also.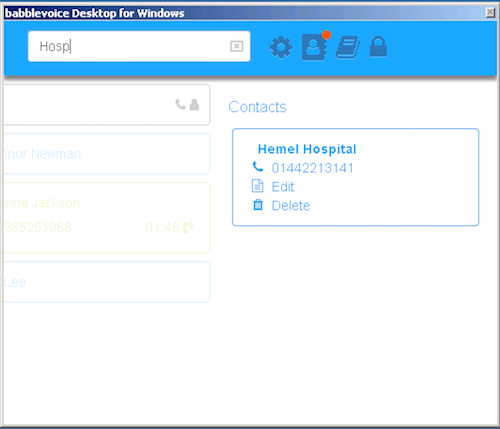 Telephony functions
Call another extensions
Click the extensions
Manager spy
Manager spy is intended for training style situations. A manager, with permissions, can listen in to an active call of another member of staff to provide live guidance to the trainee.
On the phone with the active call, click the icon
Transfer
Blind
Click the on the phone you want to transfer the call to
Attended
Call another extension (see above)
Chat
You will now have your current active call and a red call which is the original call you put on hold, click the target on the red call
Hangup
Click the icon
If you have the Windows application installed ctrl-h
Call from any Microsoft Windows™ application
Select the phone number
Copy (ctrl-c or your favourite method)
Right click the babblevoice Desktop icon in the system tray and click the phone number you just copied
Or
Give the windows control which has the phone number in it focus
ctrl-1
Or
Have a look at automation to integrate with your actual application automation. We have supplied support for EMIS Web which can either be used as an example of if you use EMIS Web actually used.
Defaults:
ctrl-1 - dial mobile
ctrl-2 - dial home
ctrl-3 - dial work
ctrl-shift-b show/hide babblevoice Desktop
ctrl-h - hangup current call
Call a number
Option 1
Enter the number in the search bar
Click "Call: "
Option 2
Click the on your phone
Enter the phone number and hit enter
Option 1
Click the in the toolbar
Find your contact
Click the number you want to dial
Option 2
Type the name (or part) of your contact in the search bar
Hit enter
Click the number you want to dial
Call Queues
Call queues are a method of stacking inbound calls into your office/call centre and ensuring they are answered in order. There is other documentation on babblevoice call queues as well as reporting on them.
For a user it is useful to have a representation of a queue they are working on and also have the ability to pick out calls.
Call Parking
When switched on, call parking can offer another simple way of transferring a call to another phone. It is called call parking as it is virtually identical to parking a car. You have a phone call, you park it, leave it and either you (or someone else) can pick it up again.
babblevoice supports call parking without the use of babblevoice Desktop. However, when handled visually it is easier to use.